Vera Bradley Sale
: $29.99 for a Mandy or Bowler bag - originally $74 (seriously, ridiculous!)
By the way: I found another Vera pattern I love! Before I discovered this one today I was in love with Mod Floral Pink - and ticked that they discontinued it! See...it's beautiful...
And I really don't like to be a pattern switcher. I like when everything matches. haha :) Good thing my husband decided he is not afraid to shop on ebay and has given me the large duffel and tote! I'm happy.
Anyway, here's my new favorite...are you ready???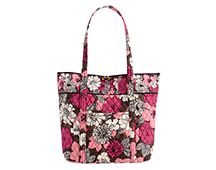 Hmmmm, I did like it a lot on the website, but now that I've bought up mod floral pink again...it just doesn't compare! Okay, fine no new favorite, but this one is nice too. :)